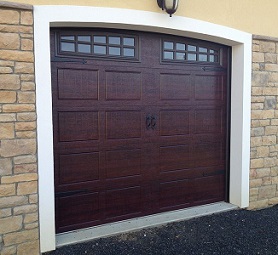 Ace Home Improvements is the garage door experts from installation to repair and garage door replacement. We work with the full Raynor line of insulated steel garage doors, known for its quality and excellent warranty policies.
Our very own garage door installation expert has been with Ace for over 25 years, guaranteeing our customers an excellent craftsman to manage garage door repair, replacement and installation needs whether you're looking for a wood garage door or steel.
Garage Door Excellence: Raynor Insulated Steel Doors
For garage door replacement and installation, we use Raynor products because they're a great company that's been around for over 70 years offering:
Insulated steel doors
Great warranties
High- quality products
Composite doors
We also offer a full line of Artisan wood and composite doors. Talk to a Ace Home Improvement garage door specialist for more information.
Advanced Technologies: Keyless Garage Door Opener
In addition to our garage door repair and installation services, we offer MyQ, which is a keyless garage door opener. You can use your smartphone to set up alerts for when you are not home, and open and close your garage all without a key. We can advise you on how to upgrade your old garage door opener and update with an opener with this new technology. We can also offer a keyless entry system touchpad. This is a great product for families with kids, as its keyless entry where they don't have to carry around a key or opener with them.
To learn more about MyQ and our garage door services, contact us to schedule a consult at 732-333-6144
Design your door by clicking here

Product Brochures
Affina
Buildmark
Centura
Masterpiece
Relante
RockCreeke
Portfolio