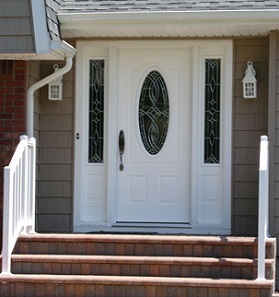 If you're looking for a glass door or wanting the perfect front entry doors for your home, come to Ace Home Improvements for professional installation and replacement of your entry door.
Our craftsmanship is bar none the best in the Central NJ area! We take door installation from front entry doors to exterior doors with the greatest care. Our exterior and entry doors with sidelights or without, are made by one of the best companies out there on the market, ProVia Doors!
ProVia Doors: Durable and Secure Front Doors & Exterior Doors
We feature ProVia doors, although we do sell and install other doors. We also have a full line of storm doors available. Come to our showroom and speak with a door specialist to see what is best to fit your needs.
We install doors made by ProVia because they're one of the best in the business, hands down:
Beauty: these front entry and exterior doors are beautiful in decorated glass, or wood-style, (factory stained to look like real wood without the real wood maintenance) as well as a variety of custom sizes and finishes
Durable: made of steel and fiberglass
Efficient: energy efficient, these doors help with your energy costs
Secure: the steel and glass door allow safety and security for your home
It doesn't matter what type of door you are looking for in your home, because whether it is entry doors with sidelights or an exterior door in a fancy finish, Ace Home Improvements gets the job done right. Call 732-333-6144 to schedule a consult today.
Entry Door Portfolio