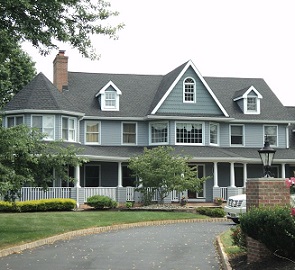 When it comes to roof replacement or roof repair in NJ, Ace Home Improvements is the answer! A family business through four generations since 1953, we pride ourselves on excellent craftsmanship and quality GAF roof shingles our clients rave about for years to come!
Ace Home Improvements are your certified GAF roof installers. Learn what GAF certified means, click here.
When it comes to residential roofing, we are the roofers in NJ to turn to for many reasons:
Roof Done in One Day! Most roofs can be completed in one day! From start to finish, Ace's meticulous craftsmanship is put to the test to give our clients roofs that will last for a lifetime
Roof Replacement: Do you need a new roof? Don't fret! Our roof installers are adept and thorough, giving you a new replacement roof in a day (typically)
Efficient Work & Craftsmanship: Whether your roof is big or small or even a shed roof, we take care of everything from start to finish
Roofers in NJ: Roofing Contractors With Expertise & Care
Our business has been a family name for generations for a reason: we take roofing seriously! Our work and our roofs are backed by our name and craftsmanship.
We offer GAF roof systems with non-prorated 50 year warranties as well as a 10 year labor warranty on our work.
When hiring roofing contractors, we are the top choice in Central NJ and will take care of everything:
Ace Home Improvements shows up on time
We do small and large jobs—including shed roofs!
We secure permits
We clean up and make sure to use a magnetic sweep when we are done to check for nails
We clean all gutters
We are like a fine tuned machine, when we leave the job, you don't even know we were there.
To get a beautiful and sturdy roof that will last for a lifetime, call us today to schedule a consult at 732-333-6144! We'll turn your house into a "home" with our GAF roof and quality craftsmanship that you won't find anywhere else.
 
Roofing Product Brochures
OC Duration Shingles
Overview & Colors
Roofing Portfolio