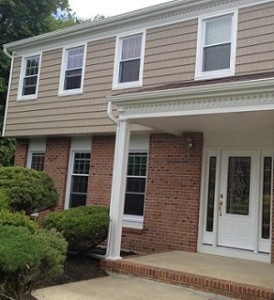 When it comes to vinyl siding for homes, Ace Home Improvements is the answer because of our commitment to doing a quality job from start to finish, our extensive three-generation's worth of experience in home improvement, and our top quality vinyl siding products.
We focus on siding for houses in the following styles:
Insulated Siding
Shake and Shingle Siding
Horizontal Siding
Hardie Board Siding
Because we pride ourselves on our expertise craftsmanship, we also rely on the best siding installation products by CertainTeed to deliver our clients the best looking and insulated homes, bar none.
Why CertainTeed? Cedar Shake Siding for Homes
CertainTeed offers TrueTexture™, in which real cedar shake boards are used to transfer their textures to their cedar shake siding offerings. They do this in order to give the siding an authentic look of natural cedar while offering:
The best insulation, which makes your home quieter and cozier– think of cedar shake siding as wrapping your home in a cozy blanket!
The look of natural wood—without the risk of rotting
The protection of ribbing to fight against warping and distortion
The security and easy application designed to make siding your home a breeze for our craftsmen
The options of numerous colors
The strength and ability to last for years to come
Maintenance free
Because Ace Home Improvements has worked tirelessly to gain the trust of over three generations' worth of customers providing siding installation services, we believe in using the best products and CertainTeed provides our customers with amazing siding for houses in all shapes and sizes that performs well for your home throughout the home's lifetime.
Vinyl Siding Styles
Out of the many big and small siding companies in the Central NJ area, we are known for a great selection of solid cedar shake siding by CertainTeed that our customers rave about.
We can supply and install almost every brand of siding out on the market, but we feature CertainTeed.
We feature the following styles in CertainTeed siding:
Cedar Impressions
Cedar Boards
Monogram
MainStreet
Encore
Ace Home Improvements also:
Help with the redesigning of your home
Work closely with you on the various decorative options that are available
Offer Aztec or CertainTeed Restoration trim boards
We install house wrap on all jobs to help protect your home
We offer different insulation choices
To learn more about our meticulous siding installation services and high-performance and great looking siding for your home, contact us today at 732-333-6144. We look forward to making your house a "home!"
Siding Product Brochures
Charter Oak
Brochure
Energy Elite Overview
XXL Overview
Odyssey Plus
Pelican Bay
Prodigy
Royal Celect
Celect Energy Recyclability
Celect Installation Efficiency
Celect Moisture Protection
Siding Portfolio
Trimming and Gutters Portfolio